Shane Doan is going to listen to outside offers as he's apparently determined, the Coyotes' chances of staying in Phoenix are still on shaky ground. According to Doan's agent, Terry Bross, Shane's
criterion
include:
1. location
2. management
3. players
4. Cup chances
Thus, though there maybe
a dozen teams willing to make an offer, only 2-3 teams will warrant serious consideration, again according to Bross.
Assuming all the offers are relatively the same then, here is how I see Shane Doan's shortlist stacking up:
1. Vancouver
2. San Jose
3. Los Angeles
Lets start with #3 and work our way up.
The Kings are a young team, and though they may have some cup hangover, they will be contenders for years to come. LA is also a short flight to Phoenix in case Doan intends on keeping his ranch and horses intact. A spot would need to be opened up for Doan among the top six though, as currently the Kings are all full up with Kopita, Brown, Williams, Richards, Carter and Penner on the roster. Penner could be shifted to the third line though, LA is still a very strong candidate.
Doan, Thornton and Kris Draper
Next is San Jose, another California contender with a strong nucleus. They may not be as close to cup contenders as LA, but Doan has a tailor made center in Joe Thornton, who he had success playing with while on Team Canada during the World Cup -- but that was over a decade ago. San Jose is also a quick flight to Phoenix, and maybe a little easier to get around in traffic when trying to get to the airport and back.
Then we have Vancouver. Another Pacific coast city, but this time much further north. Despite Doan's love for flight (yes he's got a pilot's license), a plane ride from Vancouver to Phoenix is not nearly as convenient then from either California cities. Despite that though, Vancouver has perhaps is the strongest candidate when it comes to Doan's teenage roots.
Doan me his wife Andrea while playing junior for the Kamloops Blazers. He and his family still spend parts of the off-season in Kamloops. Doan is a part owner of the Blazers, along with Jarome Iginla (who he played with in Kamloops) and new Dallas Stars owner, and Vancouver resident, Tom Galiardi.
Gillis and Gilman
In his recent blog post
:
, Province writer, Jason Botchford provided this additional nugget with regard to the Canucks chances of landing Doan:
The Canucks may have an ace up their sleeve. At least, they have a pretty good in. Laurence Gilman, the Canucks assistant general manager, has a personal relationship with Doan established during his 13 years with the Phoenix Coyotes/Winnipeg Jets organization.
"I've known Shane since he was 19 years old and I have a lot of respect for him," Gilman said. "We've definitely stayed in touch over the years."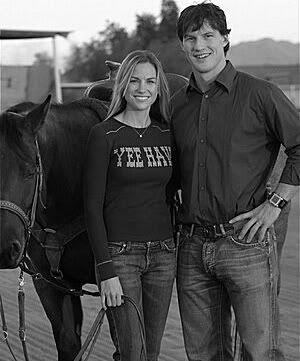 Andrea and Shane Doan
As much as the relationship with Gilman will play a factor, I think Doan's wife being from Kamloops will be the component that seals the deal with regard to signing with the Canucks. This situation eerily similar to the Ryan Suter's, where his Minneapolis raised wife, Becky,
played a large role in his decision to move
to the Wild, along with Minnesota native Zach Parise and his Minnesota soon to be wife Alisha.
Andrea Doan by the way, is a professional photographer by trade. She has her own company and
website
. Her passion is her family including taking plenty of pictures of her four kids and their father, Shane.
Some of the repercussions of Shane Doan signing a 3 to 5 year deal with the Canucks could include, Doan recruiting his old buddy Jarome Iginla to the Canucks. Iginla himself is an BC interior resident during the off-season, residing in close by Kelowna.
Shane Doan and Jarome Iginla
Thus, its not inconceivable that he and Doan could re-unite with the Canucks, next off-season, when Iginla is a unrestricted free agent. This could also play a role in Doan's decision on a NHL destination, likely to be determined in the next few days.
EDIT
:
With the
Brenden Morrow trade rumors
appearing to be legitimate, I do wonder if Dallas Stars new owner Tom Gaglardi is making room for Shae Doan. They are of course business partners with regard to their ownership of the Kamloops Blazers (along with Jarome Iginla).
Either way, you would think Doan signing with Francesco Aquilini's Canucks, would be a tough pill to swallow for Aquilini's scorned former partner, Gaglardi. Doan may not want to create those negative vibes between himself and Gaglardi (and maybe even Iginla) by going to the Canucks.
The Canucks and Stars have tried to do business since Galardi's purchase of the Stars. Thus, it could a non-factor
in the end,
especially if it becomes a matter of Doan having to pick between his wife and his business partner's happiness
.