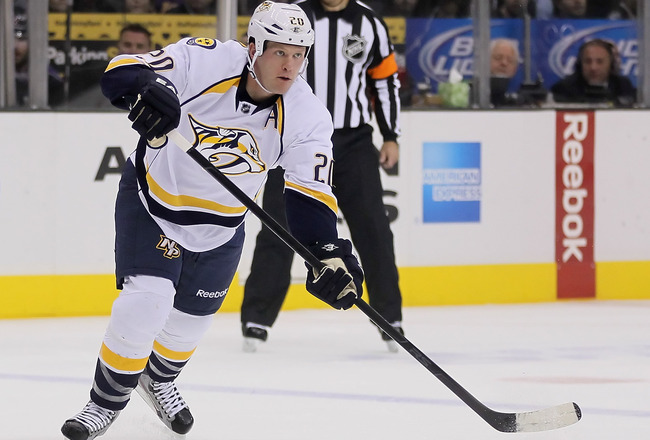 With Nashville's Ryan Suter headed for July 1 free agency, not re-signing with NSH is a very real possibility. The danger for the Predators if this happens is that Shea Weber follows Suter out the front door if not this off-season than certainly next. Even GM David Poile
admits that the two closely linked
:
"They're separate but they're tied in. Whatever conversations I have in general with Ryan, I'm going to have with Shea. They're going to be tied in going forward. They are the key building blocks of our team."
With that admission, Poile is well aware that this coming season could be Weber's last in Nashville. And this time around, with no team-elected arbitration rights to wield, Poile will be at the mercy of the free market, despite Weber's restricted free agent status.
If Weber is intent on leaving, than he will seek out his desired team now. He will not sign a multi-year offer sheet though with that team. That poses considerable risk for him because NSH will have the opportunity to match, and thus have the right keep Weber sitting still in the Music City.
Instead, Weber will threaten to sign a one-year deal with his desired team. If such a scenario played out, it would be devastating for Poile. Firstly, it
would make public Weber's desired destination. And if that happens, the trade market for Weber's rights will shrink. Those teams that were not the ones to sign Weber to the one-year offer sheet, will be hesitant to expend much in terms of assets for Weber in a trade, knowing they will likely only have Weber until July 1, 2013. Thus, Nashville's trade return will be severely impacted.
The benefit though for Nashville matching a one-year offer sheet will be that they retain the use of Weber's services for potentially the entire 2012-13 season. That benefit is nothing to sneeze at either since Weber is a premier NHL defenseman that can greatly impact a team's chances in the playoff race as well as their playoff results. However, if they match, NSH will not be able to trade Weber for a year. That would likely mean they won't have the opportunity to even trade his rights before he becomes a full fledged UFA.
If Poile gets bitten by Suter's potential UFA departure without gaining any real assets back, he may be inclined to deal Weber this summer in order to maximize return and make up for some of what was lost with Suter. Poile has not been hesitant to utilize such a strategy in the past. As early as this month, he dealt the redundant Anders Lindback for draft picks to replenish some of what was sacrificed during the this past season's trading deadline, when high picks were utilized to obtain Paul Gaustad, Hall Gill and Andrei Kostitsyn.
Poile may have the same idea in mind with regard to using Weber's rights to make up for what was lost in not trading Suter's.