Shane Doan
The Mark Messier Leadership Award was handed out in June by Messier to a player who has been in the news recently for other reasons. Shane Doan, unrestricted free agent is still deciding which NHL team he will sign with, a contract likely to be the last one for the 35 year old and longtime Phoenix Coyote captain. Upon receiving the award, Doan said about the honour:
"I am thrilled to receive the Mark Messier Leadership Award. Growing up in Alberta, I was a huge fan of Mark Messier and to receive this award from one of the greatest leaders to ever play in the NHL is a tremendous honor."
As Doan stated, Mark Messier is a recognized as an individual who could lead a team to new heights. Some of his
key achievements
include:
He is second on the all-time career lists for regular season points (1887), playoff points (295) and regular season games played (1756).
He won six Stanley Cups, five with the Oilers and one with the Rangers, and is the only player to captain two different professional teams to championships.
His playoff leadership while in New York, which ended a 54-year Stanley Cup drought in 1994, earned him the nickname "The Messiah".
He was also known, over the course of his career, as "The Moose" for his aggression and strength.
In 2007, he was inducted into the Hockey Hall of Fame, in his first year of eligibility.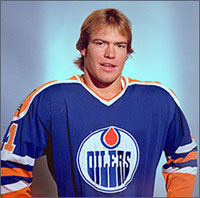 Mark Messier
When Messier started out in pro hockey, he had a lot of raw ability, like his blazing speed and incredible physical strength. The rest was a work in progress. Thus,
Messier has been called
the ultimate "coach's project." The coach (and GM) at the time was Glen Sather, who drafted the hometown boy in the second round in 1979.
What Sather acquired was an impressionable and caring young man who just happened to reside in a monster athelete's body. Under Sather's guidance
Messier became focused
on the end goal:
"I never was brought into the league thinking as far as, you know, statistics, things like that. We were really brought into the league in a team concept. Everything was focused around winning." ~ Mark Messier
Mark Messier also had terrific skills of observation. In Edmonton, Messier got to watch the greatest hockey player in the world, Wayne Gretzky, game in and game out, and learned to apply at least one characteristic from Gretzky's game to his own: accountability.
"I played with a lot of great players before. They're all the same. They take a lot of responsibility for their own play, put a lot of pressure on themselves to perform and to play well." ~ Mark Messier
Eventually, Messier was able to take all of what he learned and developed it into his own personal leadership code.
Mark Messier's leadership principles
are as follows:

1. Compete
2. Communicate
3. Motivate
4. Bond
5. Be a Team Player
6. Do What it Takes!
These principles obviously worked since Messier is recognized universally as one of the greatest leaders in all of sports.
With that in mind, I took a closer look at his principles and compared them to that of a renowned personal leadership author, namely the recently departed, Stephen Covey. In his best-selling 1989 book, '
The Seven Habits of Highly Effective People
', Mr. Covey revealed his timeless principles to personal success as follows:
Stephen Covey
Habit 1: Be Proactive
Habit 2: Begin with the End in Mind
Habit 3: Put First Things First
Habit 4: Think Win-Win
Habit 5: Seek First to Understand, Then to be Understood
Habit 6: Synergize
Habit 7: Sharpen the Saw
Habit 8: From Effectiveness to Greatness (
revealed as a sequel
to the original)
If we compare Messier's six principles to Covey's first six, it turns out they have much more in common then their shiny domes. What is revealed is an undeniable congruence in their principles/habits:
Habit 1: Be Proactive | 6.
Do What it Takes!
Habit 2: Begin with the End in Mind | 3.
Motivate
Habit 3: Put First Things First | 1.
Compete
Habit 4: Think Win-Win | 5.
Be a Team Player
Habit 5: Seek First to Understand, Then to be Understood | 2.
Communicate
Habit 6: Synergize | 4.
Bond
Stephen Covey's order is related to the developmental stages that he also identifies in his Habits series, which are as follows:
Independence or Self-Mastery (Habits 1-3)
Interdependence (Habits 4-6)
Self Renewal (Habit 7)
Greatness or Leadership (Habit 8)
So together, a Stanley Cup proven Leadership System for Hockey could be framed as follows:
Independence or Self-Mastery The First Three Habits surround moving from dependence to independence (i.e., self mastery):
Habit 1: Be Proactive (Do What it Takes!)
Take initiative in life by realizing that your decisions (and how they align with life's principles) are the primary determining factor for effectiveness in your life. Take responsibility for your choices and the consequences that follow.
Habit 2: Begin with the End in Mind (Motivate)
Self-discover and clarify your deeply important character values and life goals. Envision the ideal characteristics for each of your various roles and relationships in life. Create a mission statement.
Habit 3: Put First Things First (Compete)
Prioritize, plan, and execute your week's tasks based on importance rather than urgency. Evaluate whether your efforts exemplify your desired character values, propel you toward goals, and enrich the roles and relationships that were elaborated in Habit 2.
Interdependence The next three have to do with Interdependence (i.e., working with others):
Habit 4: Think Win-Win (Be a Team Player)
Genuinely strive for mutually beneficial solutions or agreements in your relationships. Value and respect people by understanding a "win" for all is ultimately a better long-term resolution than if only one person in the situation had gotten his way.
Habit 5: Seek First to Understand, Then to be Understood (Communicate)
Use empathic listening to be genuinely influenced by a person, which compels them to reciprocate the listening and take an open mind to being influenced by you. This creates an atmosphere of caring, respect, and positive problem solving.
Habit 6: Synergize (Bond)
Combine the strengths of people through positive teamwork, so as to achieve goals no one person could have done alone. Get the best performance out of a group of people through encouraging meaningful contribution, and modeling inspirational and supportive leadership.
Habits 7 & 8 I have yet to compare. But if you look closely at Mark Messier's career in it's entirety, including off-season activities, he demonstrates his own versions of these two as well:
Habit 7: Sharpen the Saw - to continue getting better, Messier, as do all pros, practiced almost daily in addition to playing the game. He talked about the games and participated in drills to hone his technique.
Habit 8: From Effectiveness to Greatness - as a recognized leader, Messier is passing on his experience and knowledge to others in his Mark Messier's Leadership Camp; his Mark Messier Leadershp Award, and all of the community development projects (particularly those that helped the underprivileged and children in the cities he played in.
In the weeks to come, I will be taking a closer look at each habit/principle and showing them in action both in on- and off-ice examples.